Artist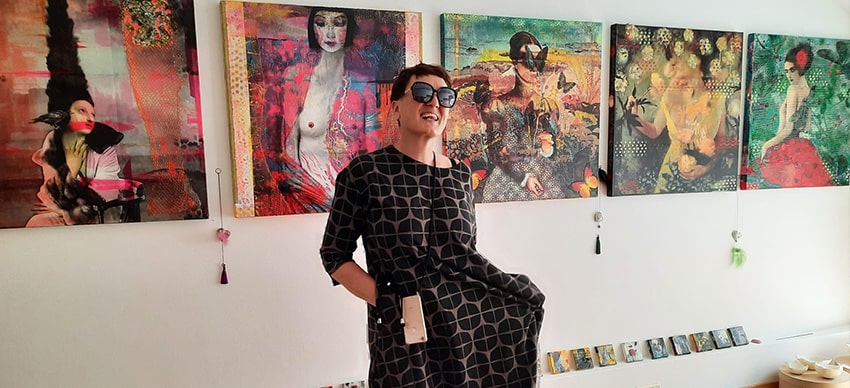 ARTIST STATEMENT
I AM AN ARTIST, THAT MEANS FREEDOM TO ME. AS AN EX-FASHION PHOTOGRAPHER, I HAD TO WORK WITH DIFFERENT KINDS OF PEOPLE IN A TEAM. THE POSITION OF THE PHOTOGRAPHER IS TO CREATE A BALANCE BETWEEN EVERYONE, WHICH WAS VERY EXHAUSTING, SO I DECIDED TO WORK ON MY OWN.

THIS HAPPENED IN MY EARLY 30'S IN PARIS WHEN I WAS PRINTING A LOT OF B&W PHOTOS IN MY DARKROOM. WHEN I LOOKED AT MY PILE OF BAD PRINTS, I FELT SAD ABOUT THE WASTE OF PAPER AND HARD WORK AND DID NOT WANT TO THROW THEM AWAY. THAT WAS AN IMPORTANT MOMENT IN MY LIFE. I STARTED TO TRANSFORM MY PRINTS WITH CHEMICALS AND PAINT.

A FEW YEARS LATER I MOVED TO NEW YORK WHERE MY WORK WAS GROWING FAST. I WORKED ON BIG PRINTS - ON WOOD, ON METAL, ALSO I WORKED WITH GALLERY PLEXY. BEING CONSTANTLY ON THE MOVE KIND OF FORCED ME TO WORK ON CANVAS. WHICH I STILL DO TODAY. I TRANSFER IMAGES ONTO CANVAS.

THE WORLD IS MY HOME, I HAVE BEEN AND LIVED IN MANY PLACES, WHERE THE CAMERA IS ALWAYS WITH ME. MY FAVORITE TOOL IS MY CAMERA NIKON FE2. PHOTOGRAPHY IS THE BASE OF MY WORK. I DO WORK WITH DIGITAL AS WELL. NOW THEY GO HAND IN HAND.

MY WORK IS THE REFLECTION OF MY LIFE. INFLUENCED BY FASHION, NATURE AND FEMALE BODIES AND BEAUTY. I DO MIX UP MY PERSONAL WORK WITH IMAGES I FIND ON MY WAY, SO I BECAME A MIXED MEDIA ARTIST.

I ALSO ENJOY AND LOVE TO TAKE PORTRAITS OF INTERESTING PEOPLE. THE MOMENT OF INTIMACY WHEN THEY ARE LOOKING AT ME THROUGH MY LENSE AND I AM CATCHING THE RIGHT MOMENT TO MIRROR THEM. I AM HAPPY WHEN I AM ABLE TO MAKE THAT PERSON LOOK BEAUTIFUL. THE NICEST COMPLIMENT I GOT WAS, WHEN ONE OF MY CLIENTS TOLD ME, THAT I PHOTOGRAPHED HIS SOUL.

MY FAVORITE COLOUR IS BLUE, I GUESS, IT DEFINES FREEDOM, WATER, SKY AND MYSTERY TO ME, IT IS ALSO THE COLOUR OF HEALING.

WHEN I CREATE A PIECE, I FORGET EVERYTHING AROUND ME AND IT'S A KIND OF MEDITATION, WHERE I GET MY ENERGY FROM. MY WHOLE STATE OF BEING IS IN HARMONY.

MY FLEXIBILITY AND SPONTANEITY REFLECTS MY PERSONALITY. I NEVER KNOW WHERE I AM GOING, I HAVE FAITH AND I JUST LET IT HAPPEN. THAT'S THE MOMENT WHEN MAGIC COMES TO ME.
EXHIBITIONS
2017 - METROPOLART BERLIN
2016 - CARRE D'ARTISTES, NEW YORK
2015 - CARRE D'ARTISTES, DEN HAAG, STRASSBOURG
2014 - AMSTERDAM ART FAIRE
2014 - SWEET ART GALLERY, NAPLES, FLORIDA
2013 - GEORGIAN NATIONAL MUSEUM, TBILISI
2013 - SIDNEY&BERNE DAVIS ART CENTER, FLORIDA
2012 - METROPOLART BONN & KÖLN
2011 - 2017 CARREE D'ARTISTES.
PARIS, BONN, AIX EN PROVENCE, KÖLN, DEN HAAG, STRASSBOURG, NEW YORK
2010 - LA PELLE & PIOCHET, AUX CHAUDRONNERIES DE MONTREUIL, PARIS
2009 - BURROUGHS CHAPIN MUSEUM MYRTLE BEACH
PERMANENT COLLECTION, FLORIDA
2008 - SAMS ART HUB, WORLI MUMBAI, INDIA
2007 - TAMPON GALLERY, PARIS
2006 - ART FOREST ART GALLERY NEW YORK, FUKUOKA, JAPAN
2005 - CHELSEA HOTEL, NEW YORK
2005 - CHELSEA HOTEL, PERMANENT, NEW YORK
2004 - THEXPO GALLERY, BROOKLYN, NEW YORK
2004 - DUMBO ART FESTIVAL, BROOKLYN, NEW YORK
2004 - GALLERY 63 PEARL STREET BROOKLYN, NEW YORK
48 ARTIST CURATED BY PATRICIA FRIDA
2003 - SOHO 20 GALLERY CHELSEA, NEW YORK
2003 - JAYSTREET JAN LARSEN FINE ART, BROOKLYN
2003 - SOHO 20 GALLERY CHELSEA, NEW YORK
2003 - FIREHOUSE TRIBECA, NEW YORK
2002 - 4TH STREET GALLERY, NEW YORK
2002 - GLACART, PARIS
2001 - MELY ART, BARCELONA
1998 - TOKYO SALOON, AOYAMA, TOKYO